Published by admin |
03-04-2017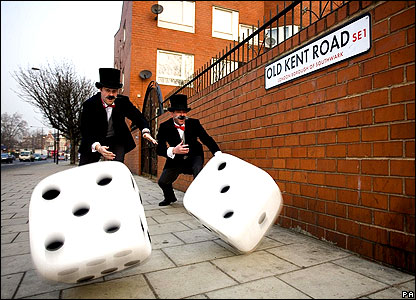 Monopoly-themed slots have been popular for years, and since they first appeared they have been undergoing various changes in terms of what they offer, how much you must wager, and what you can win. In fact, the only thing that has remained the same throughout is the loveable and likeable graphics and images which we can all associate with the world's most famous board game. Let us take a minute to look at where Monopoly-themed slots came from, where they are now, and where they are destined to go in the future.
It all began with IGT
You might associate Monopoly-themed slots with WMS Gaming, and Barcrest, but this wasn't always the case. In fact, the first Monopoly-themed slots were released by the stalwart of the land-based casino world, IGT. They eventually ported over their first Monopoly-themed slot to the online casino world, and just like in land-based casinos across Vegas and the globe, it was an instant success.
IGT tries to keep its crown
Keen to build on their success with the Monopoly franchise, IGT set about adding more Monopoly-themed slots to their budding franchise. They released a surplus of new games, including Monopoly: Here and Now, Monopoly: You're in the Money, and Monopoly Multiplier. Unfortunately for IGT, none of their new releases ever quite encapsulated the essence of Monopoly quite like their original Monopoly slot, and there were other problems, too.
The new Monopoly slots which IGT developed often had few new features, whilst wagering ranges remained as rigid as ever, with smaller prizes to be won.
Do not pass Go, do not collect…
By early 2013, the Monopoly franchise was in a sticky spot and had long jumped the shark. Eager to salvage this, IGT developed Monopoly: Dream Life. Like the other sequels before it, it tanked and was eventually shelved in 2015. With the last throw of the dice, IGT developed Monopoly Plus, based on their new (at the time) Plus gaming structure format. With features remaining largely the same, it resembled most other Plus developed IGT slots, only with a Monopoly skin. Suffice to say, when Scientific Games came along and showed interest in acquiring the Monopoly license, IGT couldn't put up much of a fight. The license was transferred over to SG, and whilst Monopoly Plus was drawing its last breath, WMS Gaming breathed new life into the series with their first Monopoly-themed slot.
Epic Monopoly II, Super Monopoly Money, and more…
WMS Gaming wouldn't stop, and soon Barcrest (another developer under the Scientific Games umbrella) released a title of their own, in Super Monopoly Money. The key difference between Epic Monopoly II, Monopoly Big Event, and Monopoly: Once Around Deluxe was that WMS Gaming developed a new gaming engine for each release, and that made each of their Monopoly-themed slots unique. With no two games alike, SG have ensured that Monopoly slots are once again tugging on the heart strings of online slot players.
The future of Monopoly-themed slots
WMS Gaming and Barcrest are currently in control of the Monopoly license, and with several top Monopoly-themed slots already out there and thriving, there is plenty to love about their take on Monopoly. More slots will certainly follow. The question is, where is Monopoly going? One would imagine that SG have learned from IGT's mistakes. Most of the IGT developed Monopoly-themed games joined the slots graveyard for being too similar, and rigid. If Scientific Games continues to developed unique, independent, and exciting Monopoly themed slots with new features, flexible wagers and big prizes, the future looks bright for the franchise; the dice will keep on rolling, so to speak.