Published by admin |
08-12-2014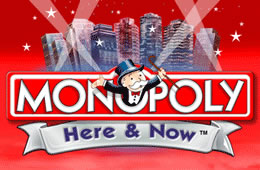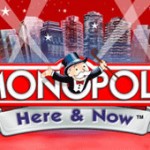 There are many versions of the Monopoly Slots available but this is the original and the one that is closest to the original board game. The Monopoly Here and Now slot, like the other versions but unlike the original game, allows you to win real money right away just like with any other slot machine.
All the versions of these slot machines feature some aspects of the original board game which is the most popular and famous ever released. Some, like this version, feature a mini Monopoly board which although smaller, feature some of the same squares as the original game, properties, utilities, chance and community chest plus of course the most famous ones of free parking, go and jail. As with the original game, you roll the dice to determine how many squares you move and then win whatever that square pays.
Although this version has a monopoly board bonus game, it is different from the others and includes some very exciting features. The free parking feature is one of these and if you land on the free parking square whilst playing the mini monopoly game in the bonus round, you could win a free parking jackpot. Once you land on the free parking, you will roll the dice to see which colour car moves forward. The first car to move forward 3 times, reaches its meter which then reveals the jackpot which you have won. What is particularly good about this jackpot feature is that you can win more than one of these jackpots by landing on the free parking square again.
This version also has other aspects about it that are reminiscent of the original game, like the Mr Monopoly symbol which is the wild on the reels and the Monopoly movers. Although this slot machine features some of the original Monopoly movers, it also features some new ones such as cheeseburgers, Roller blades and mobile phones, also some updated properties like Kensington Palace Gardens, Saville Row and Hammersmith. Even with these extras though, this slot will still make you nostalgic of the original board game.