Published by admin |
10-04-2017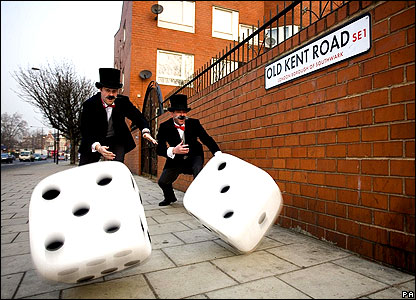 For those of you who have been hiding under a rock recently and missed a key change in the offline world of Monopoly, some of your favourite pieces may have been stripped away and been replaced by new and more 'relatable' pieces. While this hasn't yet transferred itself into the online realms of our favourite slots, we are sure it will only be a matter of time until Barcrest, WMS and the like will start tweaking their graphics and carving up our favourite icons so you can choose the new ones.
Firstly, an RIP to the Thimble, Boot and the Wheelbarrow which have been retired to make way for the new symbols. While many of you may have thought this change long overdue, we still think it's important to pay homage to the original greats. While these aren't the first round of pieces to have ever been retired by the Hasbro teams, for our generation they are clearly the ones that most of us will remember.
Secondly a Warm Welcome to the T-Rex (207,954 votes), Rubber Ducky (160,485 votes) and Penguin (146,661 votes) who were the winners of a recent vote that saw over 4.3 million voters from 146 countries weigh in on what should replace the old pieces. These will start being phased in to the Autumn run of new board games made and while we are aficionados of the online slot machines that we so often talk about, major changes in the offline world that will no doubt be transferred over to our online universe are still important to mention.
So that's about it in terms of our Monopoly Mentions, with tons of promotions going live daily, a whole host of top casino and slot sites listed on our homepage for you to choose from and an ever-updating news feed that we hope you like, we will check back in with you soon.