Published by admin |
06-10-2014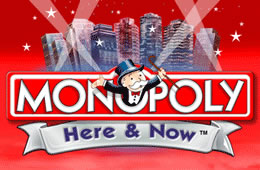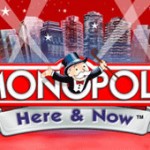 Although this game is based on the board game Monopoly and so is similar to it in many ways, at least in the bonus round, there is one major difference and that is that the movers have been updated to include roller blades, mobile phones and a cheeseburger. The Monopoly Here and Now slot is just one of the versions of Monopoly slots now available but this is the one that probably more closely reflects the original game in its bonus round.
When you trigger the bonus round on this slot machine, you move to a Monopoly board to play it. The Monopoly board, although recognizable, is smaller than the original but still has many of the iconic features. There may not be so many squares on this board but the names on the squares, for the most part, will still be recognized, there are property squares, although some of these have also been upgraded and now include Saville Row and Kensington Park Gardens, go and free parking and you move along these squares in accordance with the number of spots on the dice you roll. Obviously the winnings in this round are dependent on which of the squares it is that you land on.
Most of the other Monopoly slots versions also have mini Monopoly boards in their bonus rounds but each of them varies in one way or another to facilitate a player being able to play a monopoly slot which also has the features that they prefer.
On this particular version Mr Monopoly can appear and then randomly place houses or even a hotel on some of the properties, increasing the amount that you can win.
One other difference with this slot over the original game is that on this board, there are no bad places to land on as even the free parking, when landed on, can provide a jackpot where you have to race different coloured cars in order to learn which of 4 jackpots you have won. The lowest jackpot will pay 100 whilst the largest will pay 500.