Published by admin |
03-11-2014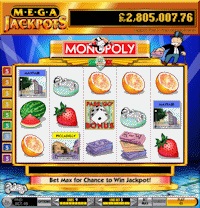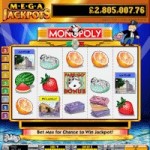 This version of the Monopoly slots varies from others you may have played before and in one of the bonus rounds, Mr Monopoly plays his own slot machine but if he gets any wins, they go to you. The Monopoly Megajackpots slot varies from the other versions in two very significant ways. Firstly, although this version has two bonus rounds available, neither of them features the near iconic Monopoly game board and secondly, unlike the other versions, this version offers a huge progressive jackpot that often reaches 7 figures before paying out.
All the Monopoly slot versions are of course based on the popular family board game that was has sold all around the world for two generations and has become the highest selling board game of all time. Because of the Monopoly fame, it is hardly surprizing that when the first slot machine version was introduced, it was received with almost instant popularity, encouraging the creators to create new versions with different features and so this is one of those later creations that was focused on players that, although they may be a fan of the Monopoly game, wanted to play a slot that had a big jackpot to offer.
The jackpot is available to be won from the second of two bonus rounds but that second bonus round can also be accessed from the first and so you get two chances of hopefully playing or and winning this amazing jackpot.
In the first of the bonus rounds, this is where Mr Monopoly plays his own slot machine and has 7 free spins. Any wins that he receives will automatically be added to your credits but if he doesn't manage to get any winning spins in the 7 free spins, you will still be awarded a multiplier of x 10. Also if, in the last spin, Mr monopoly receives 3 bonus symbols on the reels, you will be advanced to the next bonus round, the one that can pay out the jackpot.
The second of these bonus rounds is where you play for the jackpot.