Published by admin |
30-03-2017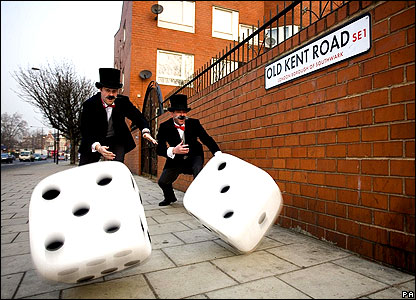 Most of the major Monopoly-themed slot machines which have been released are non-progressive and as a result of this it is simply not possible to gauge just what the biggest wins ever recorded on Monopoly-themed slots are. However, just because they are non-progressive does not mean huge jackpots have not been won! By diving into the deep-end, we've discovered just what you could win if lady luck smiles down on you, whilst playing some of the hottest and most popular Monopoly themed slots on the net. For comparison, we have also included IGT's discontinued range of Monopoly slots in this article.
Epic Monopoly II
WMS Gaming's Epic Monopoly II is a hugely popular slot machine game. With wilds, and bonus wheels aplenty, there is a multitude of chances to win. Striking it lucky in the Around the Board bonus round and landing on the Electric Company could see you win as much as 1,500x your total bet.
Super Monopoly Money
Another big WMS Gaming developed Monopoly-themed slot is Super Monopoly Money. This slot also uses a money wheel to dish out the big bucks. However, the top prize in this game is won if you land 5 jackpot symbols on a line without wilds. This could see you win over 700x your total bet.
Monopoly Big Event
Designed and developed by Barcrest, Monopoly Big Event offers a slightly different take on the Monopoly-themed slot franchise. This slot is remarkably cheap to play, and yet landing 5 wilds on a payline can still see you win as much as 2,000 coins in all.
Monopoly: Here and Now
Back in the day, this IGT developed take on the Monopoly franchise was about as realistic as you could get. Nowadays, these Monopoly-themed slots may have fallen from grace, which is a shame since it could offer you wins worth as much as 5,000x your total bet, which is far more than most modern Monopoly-themed slots can do.
Monopoly: You're in the Money
You're in The Money was IGT's next attempt at a Monopoly-themed slot machine game, and although its features were far closer to the board game than their first attempt, this IGT slot only contained a petite 1,000-coin non-progressive jackpot. There can be no surprise that it has fallen out of favour since, then.
Monopoly Multiplier
Another slot which has since fallen from grace is the 1940s themed Monopoly Multiplier slot. Developed by IGT, it has since been replaced by WMS Gaming's range of Monopoly games. In its heyday, it could offer wins worth up to 400 coins.
Monopoly: Once Around Deluxe
Once Around Deluxe is one of the newer Monopoly-themed slots doing the rounds on the net. Developed by Scientific Games (under WMS Gaming), it takes on a maximum stake of £75 and can see players win as much as 1,333x their total bet, by building houses and hotels in the Once Around bonus feature.
Monopoly Plus
IGT tried in vain to counter WMS Gaming's interest in the Monopoly franchise with this "plus" version of their basic Monopoly title. Despite being able to win up to 1,500 coins in this slot, it never really caught on, making way for WMS Gaming to take the lead with their bigger and better Monopoly games. Once again, this slot has been discontinued.
Monopoly Dream Life
Dream Life was binned in May 2015, having failed to win over the Monopoly masses. It is hardly surprising, really. Dream Life contained a smaller jackpot that most of the other Monopoly-themed slots we have discussed, and that did not sit well with players.
Which is the winner?
Today, IGT developed Monopoly slots have been discontinued, so only WMS Gaming, Bally Tech and Barcrest developed Monopoly slots are in operation (under the Scientific Games umbrella). If you want epic wins, then Epic Monopoly II is certainly the way to go.