Published by admin |
17-04-2017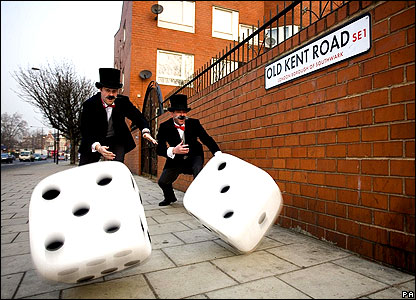 For most of us Monopoly Slot fans, the high-powered graphics and big potential payouts has had to keep us sated for some time, but it seems that Ubisoft are dominating the offline Monopoly news today as they unveil their new Rumble feature that will appear in the upcoming release. Already available for up to 6-players to play at a time both online and offline, the new Nintendo version of Monopoly is set to allow users to embrace the feel of rolling the dice by rumbling the controller/console every time a player simulates their roll. While the rumble feature isn't exactly ground-breaking technology that we are talking about, it begs the question, when will our beloved Monopoly slot embrace the next generation of graphic and animated advancements?
So, I guess this post is a bit of a 'What If' piece to explore just how far our favourite online slot machine can go. Now recent years have already seen the creation of 3D Casinos online, graphic enhancements, multi-direction payline pay-outs and more, but none of them have really driven the 'Wow' factor of Monopoly up as high as it could go. Here are a few of our favourite ideas thanks to our 'Ask the Audience' panel on our Social accounts.
1) 'Make every playing piece available and let the users choice impact the type of bonus game they can potentially win.' – This seems pretty funky and it would certainly keep us entertained a lot longer exploring all the different variations
2) 'Make the slot machine interactive and offer increased betting options to increase the number of 'Free Money' cards and alike on the screen.' – A double-whammy here but the idea of being able to increase your bet exists in a few slots already and you could maybe play with the idea of adding 'houses and hotels' to the reels which add up to award prizes or increase pay-outs of a certain colour?
3) 'Have a screen-shake feature that simulates rolling the dice or winning a Jackpot.' – This is a nice idea but we can see people getting put-off by the constant graphic effects that would send half its' players into epileptic fits … but nice in theory
There were a load more but feel free to check them out yourselves on our social feed or get in touch with us to let us know what YOU would like to see in the next versions of the one-and-only Monopoly Online Slot Machine.