Published by admin |
10-11-2014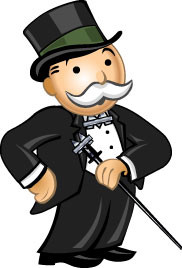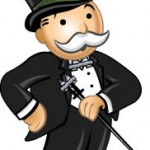 Monopoly is the most famous and the most popular family board game to ever be introduced and many people will perhaps get nostalgic when they think of the number of times they have played the game, probably with family and friends. The Monopoly slot will probably invoke that nostalgia as it is based on the board game and includes many of the board game's features.
For two generations the board game Monopoly has been available to play and over those many years, several versions have arisen, perhaps only with different property names to reflect the many countries in which it is played and so now that slot machines have themed themselves on the game, it is understandable that several versions of those have also arisen. The popularity with which the first version of the Monopoly slot was greeted, prompted producers to quickly add more versions allowing extra appeal to the slot players that had varying preferences to how a slot is played but they all maintain similarities to the board game.
Although many of the versions of the slot actually feature mini versions of the almost iconic board in their bonus rounds, even those that don't, feature aspects of it in their reels. The slots allow you to reminisce as they feature well known property names and other eye catchers like chance and community chest or go and jail and of course the ever present free parking. The traditional movers like the top hat and boot also feature but some of the versions have also added more up to date ones like cheeseburgers, roller skates and mobile phones.
Most of these versions of the slots start in the regular play and are similar to how other slot machines play but once their bonus rounds are triggered, they change into a game that is more reminiscent of the board game. You will have to roll the dice to determine how many squares you move around the board, which will in turn determine how much you win. Usually though, unlike the board game, there are no bad squares, they are all winners.